PRASHANTH RANGAN, Ph.D.
Associate Professor of Biological Sciences
prangan@albany.edu
Prash got his undergraduate engeneering degree in Industrial Biotechnology in India. While pursuing his undergraduate degree, he spent a summer rotation working in a virology lab which left an indelible mark. His work that summer focused on understanding the contribution of RNA structures to retroviral infections. He decided to pursue graduate studies working on viruses and RNA. But while attending graduate school, he was introduced to the book "The RNA World." Reading that book completely opened his eyes to the role of RNA in the origin of life and broadened his perspective. For his PhD., he studied how RNA folds to attain its final structure an important determinant for its function. For his Post-Doctorate fellowship, he chose to work on the germline, where it is known that RNA regulation plays a pivotal role. Prash's long-term goal for his lab is to bring together the two fields of RNA structural biology and developmental genetics. In his free time he love to cook elaborate dinners. One day he hopes to write a cookbook or open a small 5 table restaurant.
Jennifer Wong-Deyrup, Ph.D.
Ph.D. University at Iowa
swong-deyrup@albany.edu
Jen graduated as a biophysical chemist from the University of Iowa and was a postdoctoral associate at the Boyce Thompson Institute at Cornell University. She enjoys developing and troubleshooting new techniques. When she is not in lab, she enjoys outdoor activities, such as yoga, rock climbing, hiking and traveling.
current graduate students
B.S. in Biology from SUNY Albany

amccarthy2@albany.edu
Alicia joined the Rangan Lab in the summer of 2014 with the desire to understand how the environment shapes gene expression. Currently, her research focus is on post-translational modifications on histone tails and the role of histone modifying complexes on germline development. Aside from her dedication to science, she enjoys working out, hanging out with cats, and eating fruit.
B.S. in Biochem from SUNY Geneseo

etmartin@albany.edu
Elliot Martin is a graduate student in the MCDN program who joined the Rangan lab and the Fuchs lab in 2016. He completed his undergraduate Biochemistry Bachelor's Degree at SUNY Geneseo. He is working to understand the role of ribosomes in stem cell maintenance and differentiation. Elliot is passionate about roasting coffee, cooking, and computers.
B.S. in Biology from SUNY Geneseo

pblatt@albany.edu
Patrick Blatt is a graduate student in the MCDN program and joined the Rangan lab in 2015. He completed his Bachelor's Degree in Biology at SUNY Geneseo. His research focuses mRNA control and surveillance mechanisms in the germ line. Patrick enjoys workers' rights, reading papers and the NBA.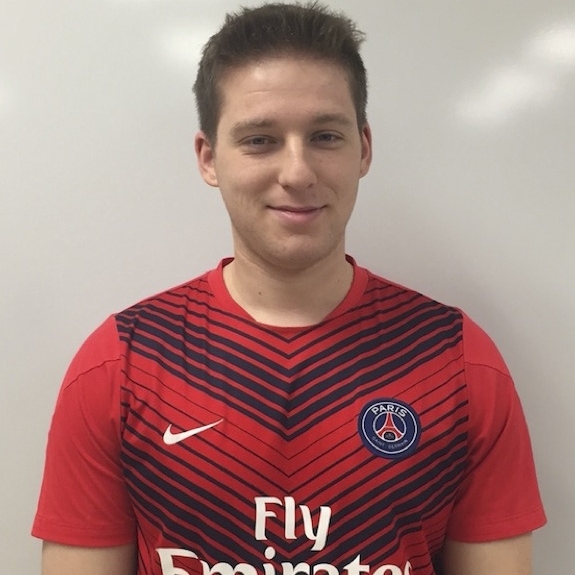 B.S. in Biology from St. John Fisher
sbreznak@albany.edu
Shane is a graduate student in the MCDN program who joined the Rangan lab in 2017. He completed his undergraduate Biology Bachelor's Degree at St. John Fisher College. He is currently working to understand the role of KDM5 in the germarium. Shane enjoys running half marathons, playing soccer, and watching the Red Sox.
M.S. in Microbiology from University of Culcutta, India

ksarkar@albany.edu
Kahini has joined the Rangan Lab in Spring 2018 as a first year graduate student. She is studying germline stem cell differentiation in Drosophila. Apart from singing and painting, she loves to read story books and watch animations. Sheldon, Hosseini, Larsson and Ray are among her favorites. One day she hopes to have her own library.
B.S. in Human Biology from University at Albany

irapisarda@albany.edu
Ian joined the Rangan lab in August of 2018 as an undergraduate and is currently pursuing his masters in biology. He is studying post transcriptional RNA modifications in Drosophila oogenesis. Ian enjoys skiing, running, and working out.
B.S in Cell and Molecular Biology from The college of Saint Rose ,Albany, NY

nkotb@albany.edu
Noor joined the Rangan Lab in Spring 2019 as a first year graduate student. Noor is from the Biomedical Sciences department at Ualbany. She is studying ribosome turnover during oogenesis in Drosophila and how autophagy contributes to it as cells progress to their specialized fate. Noor enjoys eating sushi, politics and reading the news.
Current Undergrad Students
Majors: Biology
Minor: Russian
Alumni
Post-Doctoral Alumni
Post-doc @ Institute of Science and Technology Austria's Bernecky Lab
Post-doc @ State University of New York Upstate Medical University's Hanes Lab
Post-doc @ Icahn School of Medicine at Mt. Sinai's Ezhkova Lab
Post-doc @ Harvard University's Extavour Lab